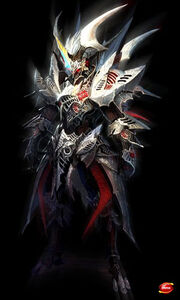 Vicious Summoners (commonly referred to as Summoners, or summys) are a 'jack of all trades' class. With access to two vastly different weapons, and the summoning ability, Vicious Summoners are capable of supporting themselves wholly with little need for other classes.
Pros
One of the Fastest Classes to Level.
Mid-High Damage
Cheap to Play
Pets
Very Fun to Play
Great AoE skills
Low Cooldown Skills
Cons
TwinBlade
Risk Giving up Staff Buffs
Not many TB Buffs
Staff
Expensive to Play
Low Defense
The Vicious Summoner has 2 different weapons they are TwinBlade and the Staff. The TwinBlade gives the Vicious Summoner several powerful melee attacks, while the staff gives them poison based spells, and several buffs.
With Reasonably strong armor, and several defensive skills, the Vicious Summoner can end up being very tanky. This in combination with their fairly high damage, and ability to summon a demon ally, means the Vicious Summoner is often considered the best solo class. A list of their armor can be found here.