Draco Desert
Edit
A vast desert inside the Continent. Draco Desert is on the way to Zenoa from the Braiken Castle and the South of Ares.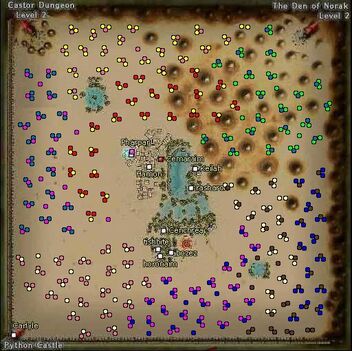 NPC
Discription
Pharpar
Teleporter
Hamon
Village Chief
Zemaraim
Dealer
Keilah
Village Chief?s Daughter
Cenchrea
Traveler
Tishbite
Traveler
Rasharon
Traveler
Bozez
Traveler
Horonaim
Traveler
Carlyle
Guard
Noteable Monster List
Edit
F=Fire, I=Ice, L=Lightning, P=Poison, C=Curse

Name
LV
HP
EXP
ATK
DEF
DIL
RES
AGR
Tentacle
69
21031
2780
910-1138
390-558
320-432
F=6%
Y
Pollution of the lower bound drawn up on the Trieste Continent made small bugs furious. A snake magnified by the power of the lower bound, Tentacle, moves berried its lower part of the body under the ground and makes sand wind.

Name
LV
HP
EXP
ATK
DEF
DIL
RES
AGR
Altar
71
22258
3010
942-1178
404-578
339-458
F=6%
Y
Seemed very furious at appearance, it is not known how and where Athar was created. But, people guess that it may have been evolved from transformed Agama to a huge iguana.

Name
LV
HP
EXP
ATK
DEF
DIL
RES
AGR
Dead Eye
72
22887
3125
679-971
411-588
348-470
F=6%
Y
Many creatures of the Trieste Continent were transformed during the Grand Fall and became a host of one another. It is the very Deadeye, a large centipede of the desert, acquired stronger power by binding feet of the Sagitta that lost eyesights.

Name
LV
HP
EXP
ATK
DEF
DIL
RES
AGR
Tootsie
73
23528
3240
974-1218
419-599
358-483
F=6%
Y
Like a Zombi Host, Tootsie lives upon bones of a human. It eats into flesh and blood of a human. If a human dies, it finds out another host.

Name
LV
HP
EXP
ATK
DEF
DIL
RES
AGR
Antares
76
25514
3600
1023-1279
441-630
388-523
F=6%
Y
A protection color of the red desert may be red. But, Antares is blue like thorns. With colorful crust, it threats enemies. It is a transformed creature of Maantis that accustomed to the desert.

High Movement Speed

Name
LV
HP
EXP
ATK
DEF
DIL
RES
AGR
Gomeisa
78
26894
3856
1056-1320
455-651
408-551
F=6%
Y
Gomeisa are magicians having protected Draco. Karon's evil power covered her eyes of truth. Then, Gomeisa cried continuously at the sorrow of losing truth. When tears stopped, Gomeisa's eyes turned white and they began to hunt humans following Karon's order.

Name
LV
HP
EXP
ATK
DEF
DIL
RES
AGR
Mintaca
79
27601
3986
759-1086
463-662
419-566
F=41%
Y
Mintaca is neither a creature from the lower bound nor a transformed one. It is not one creature, but a combination of more than two creatures.

Name
LV
HP
EXP
ATK
DEF
DIL
RES
AGR
Syph
81
29049
4248
1105-1382
478-684
430-581
F=6%, L=35%
Y
Syph, glaring one eye fiercely, has four arms. But, two arms shown outside are just for a threat. Real arms have a sword.

Name
LV
HP
EXP
ATK
DEF
DIL
RES
AGR
Kraz
83
30544
4520
1139-1424
494-706
451-609
F=6%
Y
Appearance taken away all moisture to the sun of the hot desert. It is how Kraz looks like. Before Draco became a desert, when there was a fortress, Kraz were titans protecting a fortress. However, they now have only skin, muscle, and strings and are attacking humans.