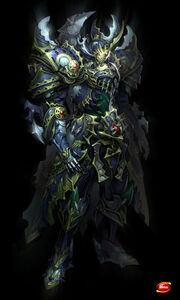 Azure Knights (commonly referred to as AK's) are one of the 9 classes available to players in Dekaron Evolution. With strong armor, and several armor boosting skills they make formidable tanks. However, they also have access to some incredible damage dealing weapons and skills in the 2-handed and dual weapon lines. Always adapting to the circumstances Azure Knights are considered one of the tougher classes to play correctly, but one of the strongest if you can pull it off.
Pros
High Defense
Mid/High Attack Depending on Role
Decent AOE's
Great End Game Class
Lots of Choices You can Make (Build Wise)
Cons
Azure knights have access to 3 main types of weapons. Each weapon typer has 2 categories, 2-handed and 1-handed. While wielding the 1-handed variant you can also wield a shield or dual wield any of the other 1-haneded weapons. Shields are a defensive "Weapon" and have their own set of skills.
The Azure Knights have the second highest natural defense on their armor, just behind the Bagi Warrior, making them potent tanks, they can be found on the frontlines of battle protecting weaker party members, or dishing out serious damage. A list of their armor sets can be found here.
Azure Knight Skills